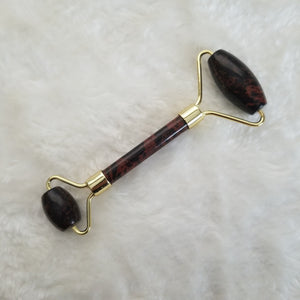 Healing Crystal Facial Rollers can be used to enhance anti-aging benefits: such as refine pores, diminish fine lines, tone and tighten facial muscles, improve skin elasticity, support collagen production, reduce puffiness around eyes, improve sinus condition and promote lymphatic drainage. Instructions are with our Healing Crystal Facial Roller. The roller comes in it's own handy storage bag for easy portability.
Each Healing Crystal has it's own metaphysical healing properties that makes it unique. Genuine crystals can emit vibrations that can heal and align our chakras.  All of our Healing Crystal Facial Rollers are 100% natural and genuine. 
Mahogany Obsidian is the "Stone of Closure." Reveals unconscious memories of shame, humiliation or abuse, and helps one recognize the cycle of dismay caused by others insults, disparaging remarks or false accusations. Provides strength in times of need, and revitalizes one's power, drive and initiative. Provides stability and stimulates the flow of creative energies and full expression of one's sexuality. Relieves pain and tension, and improves circulation. CHAKRA: ROOT, SACRAL
INSTRUCTIONS:
After cleansing and toning, smooth a few drops of facial oil or facial serum into skin. This will help the Facial Roller glide across the skin with ease, while the roller will help the facial oil or serum to absorb better, increasing its benefits. For extra cooling and soothing place the stone in the refrigerator or on ice. The stone is naturally cold, but this extra temperature drop will support blood circulation and natural collagen production, drain congested lymph nodes, rid the body of toxins, decrease inflammation and help with sinus issues. 
Tighten skin: Place the large end of the roller on your neck, apply medium pressure and roll it upwards and outwards to your ear. Repeat in the same spot 5 – 6 times, then move up along your cheek. Repeat on the opposite side.
Lymphatic Drainage: Place the large end on the roller on the side of your nose, apply medium pressure and roll it outwards towards your ear. Repeat 5-6 times, and repeat on opposite side.
Decrease puffiness, bags and dark circles under eyes: Using the small end, apply medium pressure and roll from the inner eye towards to outer corner. Repeat 10 – 15 times and switch to the other eye.
Decrease puffiness on eyelids:  Close the eye you are targeting. Using the small end, apply medium pressure and roll on your eyelid from the inner eye towards to outer corner. Repeat 10 – 15 times , repeat on other eye.
Forehead: Next, move up to your forehead. Starting in the middle of your forehead, use the large end to roll towards your ears. Repeat in the same motion 5 – 6 times then switch to the opposite side of your forehead.
*The statements made regarding these products have not been evaluated by the Food and Drug Administration. The efficacy of these products has not been confirmed by FDA-approved research. These products are not intended to diagnose, treat, cure or prevent any disease. All information presented here is not meant as a substitute for or alternative to information from healthcare practitioners. Please consult your healthcare professional about potential interactions or other possible complications before using any product. The Federal Food, Drug, and Cosmetic Act requires this notice.