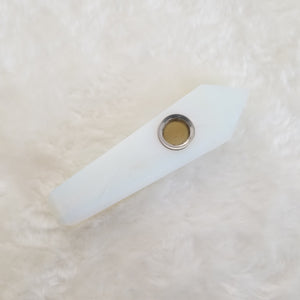 Elevate your experience to a whole new level with these Healing Crystal Pipes! Carved out of genuine Healing Crystals, these pipes are the perfect accessory for those who like to dabble in holistic remedies. These pipes can also double as a cone incense holder! 
Opalite has a subtle yet highly energy.  It is ideal for meditation.  Opalite improves communication on all levels, especially the spiritual.  It removes energy blockages of the chakras and meridians.  Emotionally, Opalite helps by assisting during transitions of all kinds.  It engenders persistence and gives us strength in verbalizing our hidden feelings.  It can also help us to be successful in business. Opalite is for all-round healing.  It aids sexual prowess, enhancing sexual experience.  Opalite stabilizes mood swings and helps in overcoming fatigue. Chakra: Third Eye, Crown
*Opalite is not a Natural Healing Crystal, but a man-made synthetic glass, also known by a number of different names, including - Tiffany Stone, Opalised Fluorite and Purple Opal.
**These statements have not been evaluated by the Food and Drug Administration. These products are not intended to diagnose, treat, cure or prevent any disease or ailment. Nature's Essential Alchemy assumes no responsibility for the improper use of these products. We recommend consulting with a qualified medical doctor or physician when preparing a treatment plan for any and all diseases or ailments. Nature's Essential Alchemy does not make any health claims about our products and recommend consulting with a qualified medical doctor or physician prior to consuming our products or preparing a treatment plan. It is especially important for those who are pregnant, nursing, chronically ill, elderly or under the age of 18 to discuss the use of these products with a physician prior to consuming. You must be 21 years or older to purchase these pipes. This information is intended to provide general information regarding our products and is not to be construed as medical advice or instruction. The Federal Food, Drug, and Cosmetic Act requires this notice.