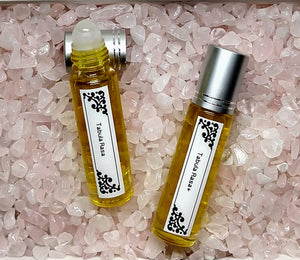 Tabula rasa is a Latin phrase often translated as "clean slate," which to us, is very fitting with our product. "TABULA RASA" is a Clear Quartz Healing Crystal Infused Essential Oil Rollerball.  Clear Quartz crystals are infused in a special essential oil blend we created and paired according to their healing properties using doTerra essential oils and Jojoba oil for hydrating and moisturizing the skin. A matching Clear Quartz crystal is used as the rollerball for an enriched application. Clear Quartz is known as the ultimate healer- it amplifies whatever energy or intent is programmed to it. Enhances memory. A cleansing stone. Chakra: All.
Crystal: Clear Quartz
Essential Oils: Geranium. Tangerine. Ginger. Frankincense.
Carrier Oil: Jojoba Oil
Volume: 10ml
Apply: Apply topically as much as desired to pressure points- people typically apply it on wrists, inner elbow, behind the ear and temples. DO NOT INGEST.
**We also have this available with CBD(+), in a concentration of 100mg (medium dosage) per 10ml bottle. We use CBD concentrates from the reputable company Green Roads, who was featured on NBC for having the highest quality, pharmacist-formulated CBD products on the market. CBD stands for cannabidiol, a compound found naturally in hemp plants. CBD may support a sense of peace and balance. Don't worry, it's non-intoxicating, so you can add CBD to your everyday routine without an altered state of mind. Topically applying CBD does not show up on a blood test. CBD can help cope with anxiety, inflammation, arthritis, chronic pain, and much more. We encourage you to research the benefits of CBD before purchasing our CBD oil to see if it is the right fit for you.
*These statements have not been evaluated by the Food and Drug Administration. These products are not intended to diagnose, treat, cure or prevent any disease or ailment. Nature's Essential Alchemy assumes no responsibility for the improper use of these products. We recommend consulting with a qualified medical doctor or physician when preparing a treatment plan for any and all diseases or ailments. Nature's Essential Alchemy does not make any health claims about our products and recommend consulting with a qualified medical doctor or physician prior to consuming our products or preparing a treatment plan. It is especially important for those who are pregnant, nursing, chronically ill, elderly or under the age of 18 to discuss the use of these products with a physician prior to consuming. You must be 18 years or older to purchase CBD infused products. This information is intended to provide general information regarding our products and is not to be construed as medical advice or instruction. The Federal Food, Drug, and Cosmetic Act requires this notice.